Aimie's Space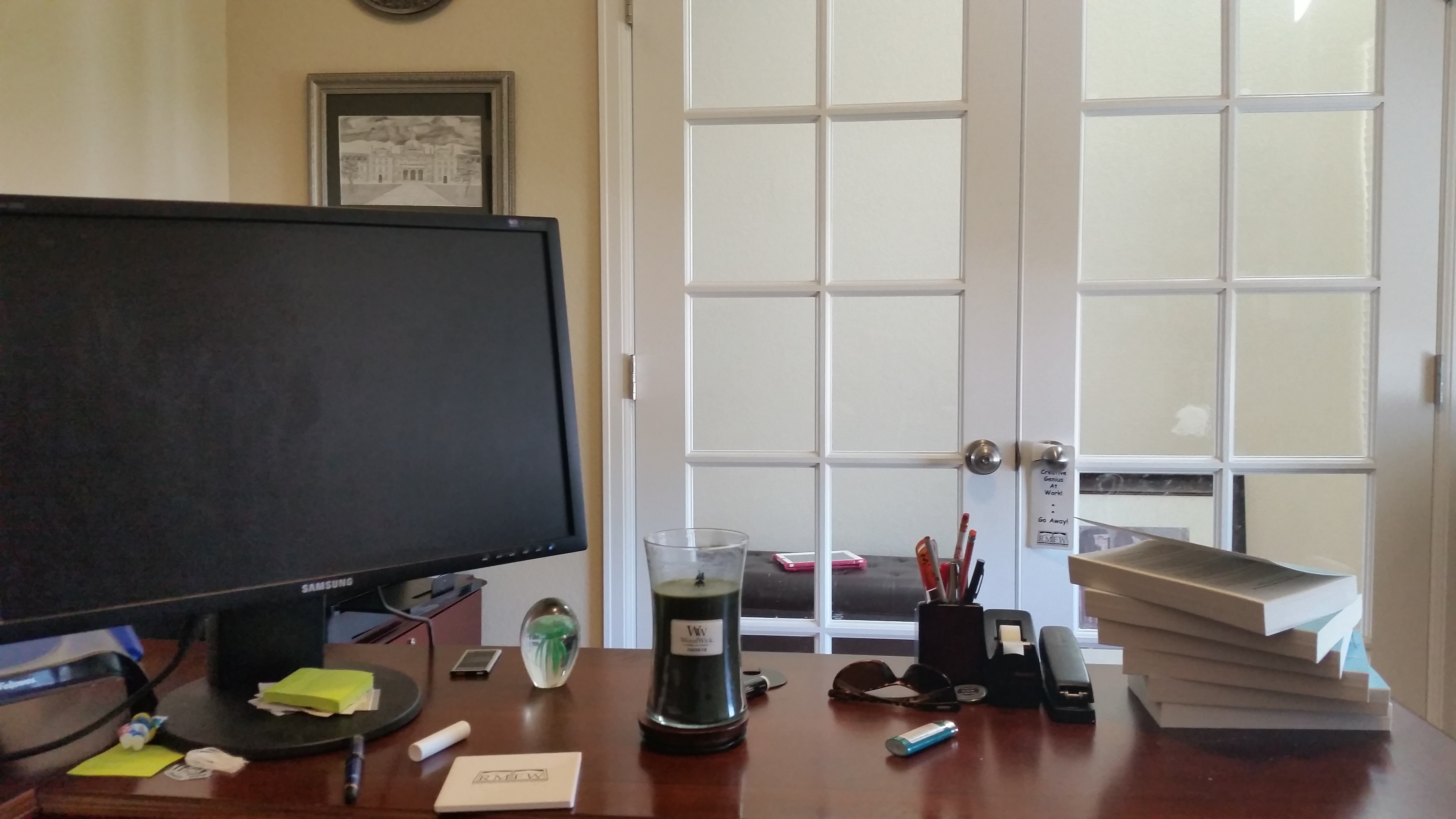 When my kids were tiny, their naptime was
sacred unto a long bath and a book for
Mama. I needed that time to regroup and face making dinner and the legendary "witching hour" just before bed. They were Olympic-level nappers, so most days I got a fantastic break.
The massive Jacuzzi tub made up for the loneliness of living out in the sticks.
But one naptime, instead of pulling out a book to read, I perched my laptop on the side of the tub and set about writing one of my own. Six months later, I had a draft of what would
become Promised to the Crown.
So that's my confession; for my first two novels, my office was a massive bathtub. In
case you're wondering, I never dropped my computer.
But then, transfers happened and we moved to the suburbs of Denver, and we no
longer had a tub large enough to swim laps in. I've tried writing in my new standard-sized tub,
but it's not comfortable for long. I had to learn to adjust to writing in an office like a normal
person. No hot water. Fully clothed. It's weird, but a good writer is a resilient one.
The best feature of the new house was a dedicated office, complete with French doors.
With a little bit of help from Home Depot, those doors now lock from the inside and keep the
little minions out. You'll notice I did not clean off the fingerprints. Authenticity, people. Not just a hipster buzzword.
A few things to point out in my office:
1. The prominently displayed green candle on my desk, a Frasier Fir WoodWick Candle. It
smells like Canada and I light it every time I sit down to write.
2. A crap ton of books. Be wary of any author who doesn't have bursting shelves, just like
skinny cooks or stylists with good hair.
3. The cool drawing next to the door—it's an illustration of the Salpêtrière charity hospital
(featured prominently in my books) drawn by my dear friend Megan Brockriede.
4. My cover art. I hang that stuff on the walls like an award, because it honestly should feel that way.
5. Blank space for more book covers. Optimism. Plus, I can't get my husband to hang the
New Orleans picture behind my desk. I'd do it myself, but FEMA has asked that I not do
any more home improvement projects on my own.
6. Promo materials and author copies in ugly cardboard boxes. The sign that this has moved from hobby to career.
7. (Not pictured) the rocking chair that graced our nursery is now my reading chair. Every good office needs one.
So this is the space where Novel #3 is taking shape, and likely where I will pen quite a few more.
Unless I hit the NYT or win the lottery, in which case, we're getting another farm house and I'll
commission the world's first custom writer's bathtub. It'll be epic.
Aimie K. Runyan is an author of Historical fiction whose purpose is to celebrate history's unsung heroines. Her debut novel, PROMISED TO THE CROWN, the story of three women sent by Louis XIV to help colonize his Quebec colony, was a ten-years-in-the-making labor of love. She loves baking, travel, hiking, and all things sacred unto nerd culture. She lives outside Denver with her loving husband and two adorable children.
Her two books are Promised to the Crown (Just released 4/26) and Duty to the Crown (coming 10/25) from Kensington.
You can find Aimie online at
Source: Blog