I'm so excited to bring you the first POINT OF VIEW post featuring J. Kathleen Cheney! She taught mathematics ranging from 7th grade to Calculus, but gave it all up for a chance to write stories. Her novella IRON SHOES was a 2010 Nebula Award Finalist. Her novel, THE GOLDEN CITY was a Finalist for the 2014 Locus Awards (Best First Novel). DREAMING DEATH (Feb 2016) is the first in a new series, the Palace of Dreams Novels.
***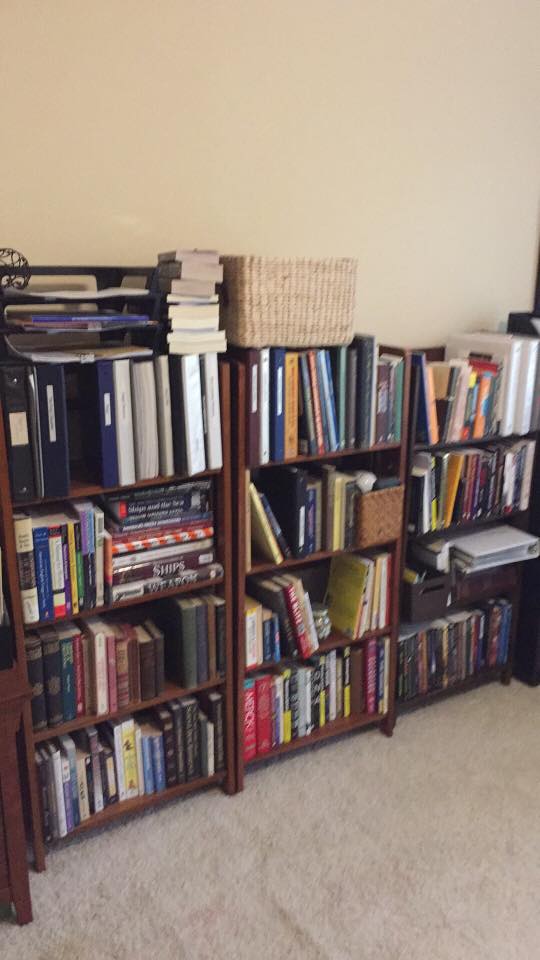 My research bookshelves are normally much fuller than this. You'll note that a lot of the spots on these shelves are empty, but that's because I'm doing a presentation on Historical Research this weekend at a local writer's conference. But I have a load of books that I've collected through the years on such topics as horse racing, fashion, and underground buildings. Those shelves have a lot of Portugal, a lot of Russia, a lot of Saratoga Springs…and if my house were burning, I'd be tempted to save these before photographs (but after my dogs and computer).
My desk shelves are still a wreck. We moved six months ago, and this room has been lowest priority, so a lot of things are just shoved randomly on shelves, including a gut of author copies. I am generally a person who prefers a veneer of organization, so this bugs me!
My office settee is where I supposedly get to sit and read through manuscripts. As it's next to the window, it actually spends most of its time as a dog lounge. And if you'll look on that bottom shelf, you'll see two tubs of my precious magazine clippings, mostly pictures of people and places and buildings that have caught my eye over the decades. Some of the clippings in there go back to college, so…the '80s.
Again, I'd rather have those than family photographs.
Shironne Anjir's status as a sensitive is both a gift and a curse. Her augmented senses allow her to discover and feel things others can't, but her talents come with a price: a constant assault of emotions and sensations has left her blind. Determined to use her abilities as best she can, Shironne works tirelessly as an investigator for the Larossan army. A member of the royal family's guard, Mikael Lee also possesses an overwhelming power — he dreams of the deaths of others, sometimes in vivid, shocking detail, and sometimes in cryptic fragments and half-remembered images. But then a killer brings a reign of terror to the city, snuffing out his victims with an arcane and deadly blood magic. Only Shironne can sense and interpret Mikael's dim, dark dreams of the murders. And what they find together will lead them into a nightmare…
Source: Blog